Orientation to Practice
Orientation to Practice is a three-hour program that introduces newcomers to zazen as practiced by the Honolulu Diamond Sangha. You will be shown how to do zazen. We will introduce you to a variety of sitting postures and help you to find a zazen position that works for you. We will go over different practices of zazen, and teach you to work with your mind. We will introduce the forms of Zen practice such as kinhin (walking zazen), and the sequences of bells and clappers that signal the beginning and end of periods of zazen. We will discuss sutra recitation, dokusan, working with a teacher, sitting at home, and how to continue your practice. We will do zazen together and you will have opportunities to ask questions.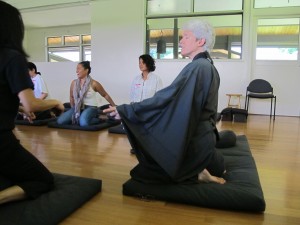 Orientations to Practice are offered once each month on a Saturday morning from 9am to noon at the Palolo Zen Temple. There is no charge and no need to register in advance. The scheduled orientations for the year are listed below.  If you have any questions about the orientations please don't hesitate to call 808.735-1347 to talk to our administrator.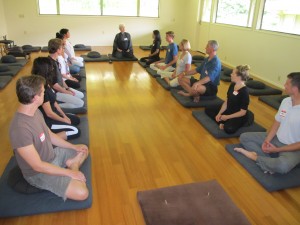 Please wear loose comfortable clothing,
Please arrive on time and plan to stay for the entire morning.
If you have questions, please call our administrator at 808-735-1347.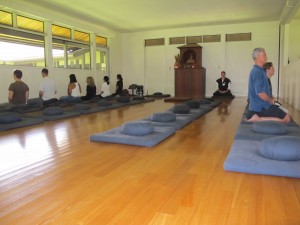 2018 ORIENTATION DATES
December 9, 2017
January 20, 2018
February 10
March 17
April 21
May 26
June 23
July 14
August 11
September 8
October 13
November 17
December 29